Kellogg's Wellbeing Newsletter – April 2021
Welcome to the April 2021 issue of the Kellogg's Wellbeing Collective eNewsletter. Learn about our US Wellbeing Priorities, see Drew Barrymore and dietitian Joy Bauer dish about fiber, and find out how our foods support you in following the 2020-2025 Dietary Guidelines for Americans. And don't miss our appealing new lineup of foods – coming soon to a store near you.
Not yet a Wellbeing Collective member? Stay in the loop— sign up here now.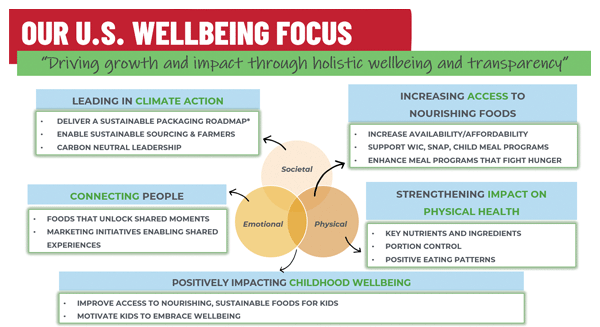 Our US Wellbeing Priorities
At Kellogg, we recognize the important role our foods play in positively impacting people, communities and our planet. That's why our US wellbeing priorities focus on supporting physical, emotional and societal wellbeing.
Take kids, for instance. A record number of children are facing hunger and anxiety while not getting enough of several key nutrients and physical activity.
So, as part of our wellbeing priorities, we've launched our US Childhood Wellbeing Promise to help improve kids' access to nourishing, affordable and sustainable foods while helping to motivate them to embrace wellbeing and physical activity.
Stay tuned for updates on how we're keeping our Promise.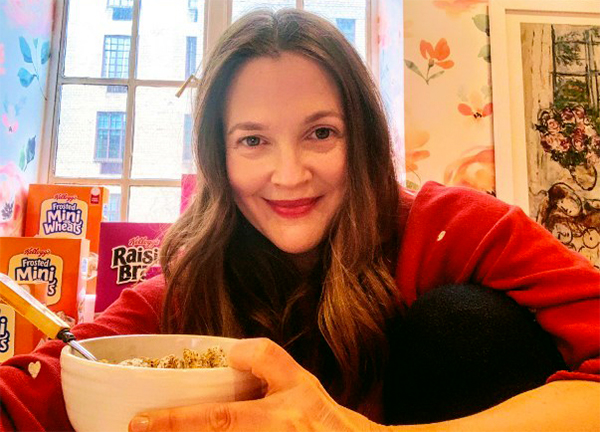 Kellogg's Did You Know …
See Drew Dish about Fiber!
Did you know – almost everyone needs more fiber as well as easy and delicious ways to eat it?
Fiber is important to help support digestive health and helps us feel full. Many plant-based foods provide essential vitamins and minerals – and fiber. For instance, Kellogg's® cereals such as Frosted Mini Wheats® and Kellogg's Raisin Bran® are high in fiber, with at least 20% DV of fiber per serving.
To make fiber fun and exciting to eat and talk about, we partnered with actress and talk show host Drew Barrymore and dietitian Joy Bauer during National Breakfast week in March to highlight fiber's importance in the diet and make it cool to talk about.
Check out their fiber chat here.
We also partnered with retailers to highlight our Did You Know initiative in stores and offered a coupon for $4.00 off Fairlife® milk with the purchase of three participating Kellogg's® cereals.*
Kellogg's® Did You Know helps shoppers learn surprising and enlightening facts about cereal's nutritional benefits and busts common myths and misperceptions so shoppers can make informed choices.
*Promotion was not valid in CO, ME, MO and ND. Savings were applied at checkout.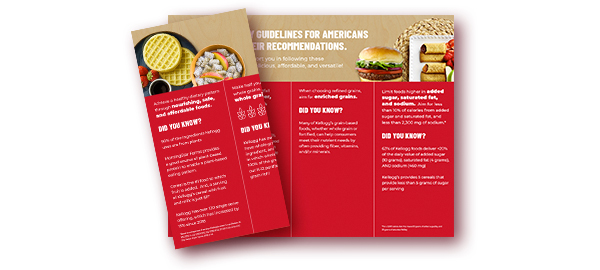 How Kellogg's Foods Support You in
Following the Dietary Guidelines
As you may know, the Dietary Guidelines for Americans recently updated their recommendations. Good news—Kellogg's has foods to support you in following these recommendations AND these foods are delicious, affordable and versatile!
For instance:
• 60% of our foods and 96% of our cereals deliver a shortfall nutrient (dietary fiber, vitamin D, calcium, potassium), or a whole grain.
• Kellogg offers more than 120 foods, including cereals and bars, with whole grains as the first ingredient, and more than 30 foods with whole grains making up 100% of the grains provided. And, our K-12 portfolio is 100% whole grain rich!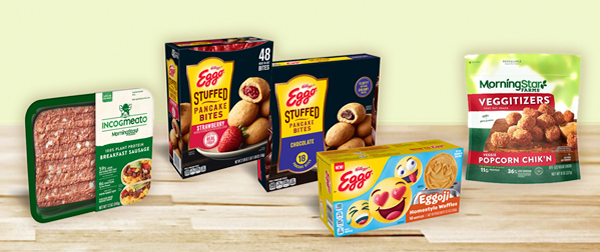 New Foods Coming Soon
Watch for these tasty new foods coming soon to your store's freezer and refrigerated sections.
• MorningStar Farms® Spicy Popcorn Chik'n is vegan with colors and flavors from natural sources. Made with Non GMO soy and 100% plant protein. Certified plant based by the Plant Based Foods Association (PBFA).
• Incogmeato™ Ready to Cook Ground Breakfast Sausage and Ready to Cook Breakfast Original & Maple Flavored Sausage Links are vegan with colors and flavors from natural sources. Made with Non GMO soy and 100% plant protein. Certified plant based by the Plant Based Foods Association (PBFA).
• Eggo® Stuffed Pancake Bites ® Strawberry is made with real fruit, colors and flavors from natural sources. Eggo® Stuffed Pancake Bites Chocolate is fluffy outside and creamy inside. Both great to share at snack time.
• Eggoji Homestyle Waffles shapes express happiness and positivity at breakfast. Part of our support for No Kid Hungry® to help end childhood hunger.
Connect With Us on Twitter!

Follow us @KelloggRDS for food news, new research findings, continuing education opportunities, and more!
| | Stay connected to resources, food and program news, new research findings, industry insights and educational materials with our Wellbeing Collective eNewsletter, published six times per year. |
| --- | --- |