Kellogg's Wellbeing Newsletter – June 2021
Welcome to the June 2021 issue of the Kellogg's Wellbeing Collective eNewsletter. Learn about our new Together With Pride cereal and hear from Kellogg dietitian Stefanie Dove about two K-12 programs coming this fall. And make sure to check out our latest plant-based foods.
Not yet a Wellbeing Collective member? Stay in the loop— sign up here now.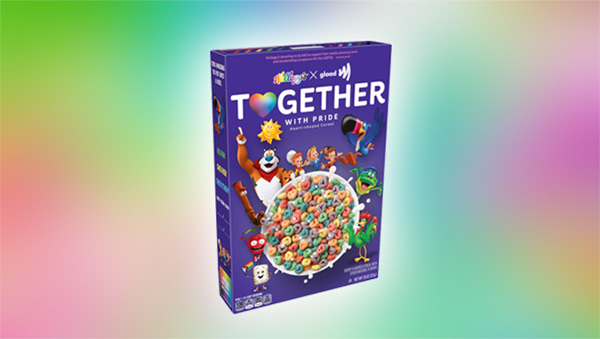 Try Together With Pride Cereal – Because Boxes are for Cereal Not People
June is Pride Month, the perfect month for Kellogg to join LGBTQ+ advocate and long-time partner GLAAD to introduce Kellogg's® Together With Pride cereal – because everyone deserves a place at the breakfast table.
When people buy a box of Together With Pride cereal, they can trigger a $3 donation to GLAAD* to keep boxes for cereal and let people be who they were meant to be.
Beloved Kellogg characters appear on the package front in solidarity. In addition, LGBTQ+ icons and friends of GLAAD will get involved by joining the #BoxesAreForCerealChallenge via TikTok to celebrate that no matter who you are or who you love, you are too awesome to fit into a (cereal) box. The initiative supports emotional and societal wellbeing as part of our US wellbeing priorities.
The cereal itself sends a prideful message with glittery rainbow-colored hearts and natural berry flavor. It's also a good source of fiber and eight vitamins and minerals.
Kellogg's® Together With Pride cereal is part of our five-year partnership with GLAAD to help accelerate acceptance of LGBTQ+ folks everywhere. In 2018, we joined forces to launch All Together cereal to support Spirit Day, an annual event in October that fights the bullying of LGBTQ+ young people.
Learn more about Together With Pride cereal and upload your receipt.
Get involved by joining the #BoxesAreForCerealChallenge via TikTok.
*Requires Kellogg's Together with Pride cereal receipt upload to Kellogg's Family Rewards (KFR). Min. donation $100,000 – max. $140,000. Applies to purchases between 5/1/21 and 11/30/21. Must upload within 30 days of purchase.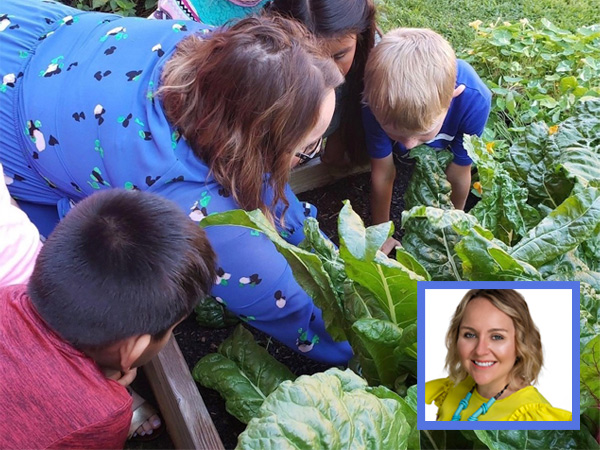 Meet Stefanie Dove, MBA, RD, Kellogg's K-12 Wellbeing & Regulatory Business Partner
In this issue, we're pleased to profile the work of registered dietitian Stefanie Dove, Kellogg's K-12 Wellbeing & Regulatory Business Partner. Stefanie combines extensive child nutrition, marketing and communications expertise to develop educational programs and recipes to better connect students and foodservice operators with the foods served in schools.
"School meals sometimes get a bad rap, but actually they're highly regulated by both FDA and USDA to make sure they meet strict nutrition standards," says Stefanie. "In fact, a recent study published by JAMA confirmed that school meals were the most nutritious meals provided to children during the day." 1
We chatted with Stefanie about two innovative Kellogg foodservice programs coming to K-12 schools this fall.
Kellogg's® Eggo ® Share Positivity nutrition education program coincides with the launch of Eggo® Eggoji waffles in schools and Better Breakfast Month in September. "We developed Share Positivity to promote social and emotional wellness and to help ease students into the transition of being back in a traditional building as this school year will be the first time some students may physically be in a school building in almost 18 months," says Stefanie.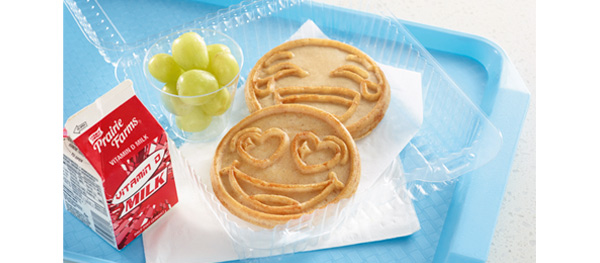 The whole grain-rich Eggo® Eggoji waffles are stamped with six different emoticon characters to give students and operators a reason to smile. The Share Positivity program helps students start the day in a positive way and helps fuel learning through fun and nourishment. Operators can distribute trading cards that depict the Eggoji characters along with positive messages about emotions, physical activity and nutrition. "To encourage a bit more fun and engagement, we also developed activity sheets, stickers and photo booth props for schools to promote the importance of school breakfast," says Stefanie.
Also coming this school year is Cafeteria to Classroom, a new pilot program where Stefanie and the K-12 team will work closely with a group of school nutrition operators to incorporate activities featuring 10 STEM-based lessons to help students and operators learn about the environmental, nutritional and cultural impacts of plant-based foods. "We saw a real need for this program," says Stefanie. "K-12 students are concerned about the impact their food choices make on the environment and most (56%) are trying to eat more plant-based proteins." 2 The program encourages culinary exploration through sensory activities and teaches basic culinary math skills.
Accompanying the program is Kellogg's Plant Powered Sustainability Calculator to help operators and students calculate their potential impact on the environment by consuming plant-based proteins. To learn more about Cafeteria to Classroom, contact Stefanie at Stefanie.Dove@kellogg.com.
Also new this fall are two Child Nutrition (CN) labeled plant-based school menu offerings, adding to the robust CN portfolio from MorningStar Farms® – Grillers Prime Veggie Burger and Vegan Classics Buffalo Wings, both with colors and flavors from natural sources.
1 Liu J, Micha R, Li Y, Mozaffarian D. Trends in Food Sources and Diet Quality Among US Children and Adults, 2003-2018. JAMA Netw Open. 2021;4(4):e215262. doi:10.1001/jamanetworkopen.2021.5262.
2 Hartman IFMA Datassentials CPP 2020.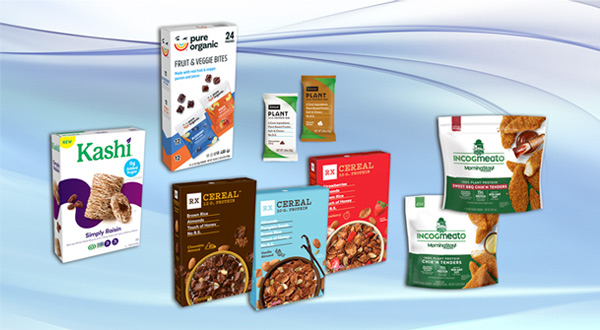 Watch for these New Foods
Plenty of new plant-based options are coming soon to a store near you.
MorningStar Farms® Incogmeato® Original and Sweet BBQ Chik'n Tenders are 100% plant protein but look, cook, taste and tear just like the real thing. Original tenders contain no artificial flavors; Sweet BBQ Chik'n Tenders are made with colors and flavors from natural sources. Both are vegan, made with non-GMO soy and certified plant based by the Plant Based Foods Association (PBFA). Also look for Incogmeato® Homestyle Chik'n Tenders at select foodservice locations.
Kashi® Simply Raisin Biscuit Cereal is 100% whole-wheat with a filling made with raisin paste. Contains 7g plant-based protein and 48g whole grains per serving. Non-GMO Project Verified and made with transitional wheat.
RXBAR® Plant is RXBAR®'s first plant-based protein bar. This soft, easy-to-chew bar comes in two delicious flavors—Peanut Butter and Chocolate Chip. Made with pea and almond protein; 10g plant-based protein per bar. Gluten-free.
RX Cereal comes in three deliciously crunchy flavors—Vanilla, Chocolate and Strawberry. 10-12g protein per serving.
Pure Organic Fruit and Veggie Bites are yummy, poppable fruit snack twist bites made with real fruit and veggie purees and juices, including carrot puree. Vegan, Certified Organic and Non-GMO Project Verified. Gluten-free; no artificial flavors or synthetic colors.
Select varieties of Eggo® waffles now come with a three-step Easy Reseal feature to help maintain waffle freshness.
Connect With Us on Twitter!

Follow us @KelloggRDS for food news, new research findings, continuing education opportunities, and more!
| | Stay connected to resources, food and program news, new research findings, industry insights and educational materials with our Wellbeing Collective eNewsletter, published six times per year. |
| --- | --- |